Whilst having a conversation with Dean about adult type jokes in TV kids movies (not dirty ones, just dry humour) It dawned on me that a lot of great ones are actually staring me in the face every morning!
The following are our top 5 Cbeebies Character's that we as Adults find funny,entertaining for explained reasons
1. Bag- Sarah & Duck
Source photo via google images
(behindthevoiceactors.com)
His dry humour & his complete disdain for his owner "scarf lady" at times has me giggling for other reasons than A laughs at.
Bag is actually my favourite character of them all, I love his rolling eyes at the sometimes odd things Scarf lady comes out with example: "I've got wool coming out of my nose!" his sometimes head on attitude & in my opinion damn fine voice acting!
I look forward to when A watches Sarah & Duck- just so I can watch more funny goings on in Bag's little world.
2. Flop.-Bing
Source photo via google images
(brownbagfilms.com)








Flop is a choice I made because despite his size, he's parent/guardian to lets be honest a not so little Bing- a bunny.
his energy & way that he deals with difficulties that all us adults face with children, sometimes gives me ideas of my own, should I be faced with similar issues, Anger,sharing,being gentle etc..
It doesn't matter that Flop hasn't been assigned "dad" or "guardian" or any other label.
Bing has become increasingly popular among pre-school aged children & my little boy is no different.
Flop sometimes hang back approach proves that you don't need to be constantly in your child's face teaching them, that letting them discover for themselves is just as magical.
3. Dr Ranj- Get well Soon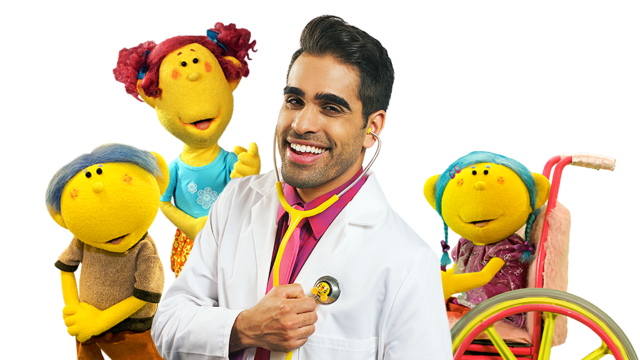 Source photo via google
(bbc.co.uk)











I'm not going to lie, I think Dr Ranj Is very nice, the words "I'd let him listen to my heartbeat" slipped out one time chatting with other mummy friends of mine, (don't worry Hubby is quite aware & it's the source of a lot of joking & banter)
But I didn't choose Dr Ranj just because I think he's gorgeous.
I chose Dr Ranj because A used to be terrified of visiting the doctors, and it was distressing to explain to him that he was ok, but having him watch Get well soon enabled A to watch some characters with common childhood problems: Eczema,croup,Chicken pox etc... to see doctor & nurse too being friendly & good fun!, ok so our local doctor wont be singing a song all about poo at our next check-up but I believe A watching Get well soon has given him the idea in his head that he's OK & Doctors are OK.
that and one time he sung "be happy,he healthy" at a rather lovely new doctor, and the poor guy not knowing what was happening haha!
4. Chu Chu The panda- Hey Duggee
Source image via Google images
(twitter)



I couldn't find a picture of Chu Chu the Panda, but I think it's pretty obvious she's a panda,
Watching an episode with A one day about Noree being ill ( yes I know nearly all the characters names, it happens!) & they stumble across a plump Panda that can't reach any-more bamboo, as soon as she speaks I was in stitches, I don't know why, It perhaps being the comedic voice acting, or perhaps the fact the combination between her actions and voice was so amusing to me.
another reason perhaps being I can do her voice perfectly & surprising Dean & A with my new found hilarious talent,is now a permanent fixture in our house, when A asks for Chu Chu the panda It's an order, (not a bossy order) & so far have delighted strangers in the local supermarket,a TK maxx, my bank & in front of his dad's side of the family. So thank's Chu Chu the Panda for continuous laughs amongst our family.
5. Topsy & Tim - Topsy & Tim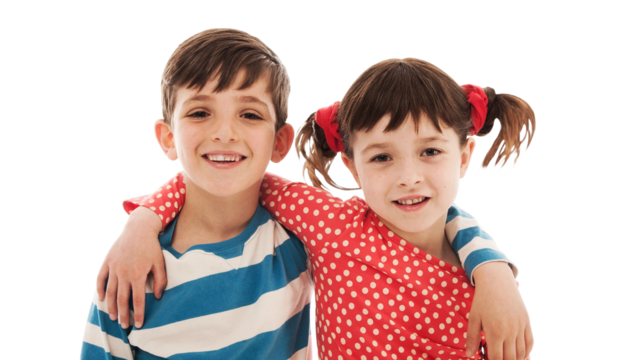 Source photo Via google images
(bbc.co.uk)





Topsy & Time, based on quite an old story book(s) Is a peek into the world of twins, So far a new-ish Favourite of A's & so far not grating on my last nerve like others do at times..
problem with the programs that are a "likeness" to normal family life is that it's obviously never going to be like most sometime stress filled homes, when sometimes the kids are acting up so much so your last nerve has up and left & you find yourself telling your sweet little angels to "just do as their bloody well told".. & sometimes I find myself saying these programs need a little more reality, perhaps a little stab of realism from somewhere in these programs wouldn't hurt, I'm not saying shout profanities at them, heavens no!, but perhaps a naughty step here, a confiscated toy there?
When parents are portrayed as perfect Mary Poppins characters on these programs it sometimes produces unintentional guilt to those parents with children who are not perfect little darlings 100% of the time.
Topsy & Tims adventures sure are entertaining, & has actually shown A that not all families have just 1 child & that playing with friends is just as important as playing with one another as a sibling.
What children's program characters are your favourites?